Current mood: busy

Entry tags: cryptography, linux, mit, pgp, security

Speaking at BLU@MIT Sept. 20th 2006

I'm speaking at The Boston Linux Users group on the topic of PGP encryption before a keysigning party. The talk will be given @ MIT E-51 rm 335.

Register your key and drop on by if you'd like to help us build the web of trust. Fun will be had by all. Well, at least the math geeks anyway.

I really need to sit down and force myself to update the PGP Keysigning Party HOWTO. That's officially my mission for today.

A web of trust:

Current mood: nerdy

Current music: 3 Doors Down - If I Could Be Like That

Entry tags: books, library

LibraryThing

After seeing it in xach's journal, I set up an account for myself on LibraryThing. LibraryThing is basically a kind of mix between a Social Networking site and a Recommendation Engine. You put in all the books you own and it will tell you who else also has those books, let you add reviews and ratings, tag your books, give you interesting statistics on your collection, and recommend other books you might like to read. I left my data public, so anyone can take a peak at my collection of books or my profile on the site.

My reaction to seeing my books all listed out like that was "OMG, I'm such a NERD! I'm never going to get laid!". I have them spaced out around the house and many of them stacked at odd angles, some with their spines facing the wall, to keep me from having that reality brought into my consciousness. 8-)

I signed up though cause I need to starting reading again. I need to find some new books I might like. The world's changing. I need something new. Pretty much, the only things I've read in the last five to seven years that weren't online were text books and certification study guides. I've kind of been in this over focused rut. I have done much of anything but work-work (stuff for $ or other people) and waste time. I'm not sure if there's any irony in the fact that rut is a homonym that's alternate meaning is the breeding season for cervids. Probably, if I was vulgar enough to disclose how I've been wasting my time. haha

Here's my Author Cloud: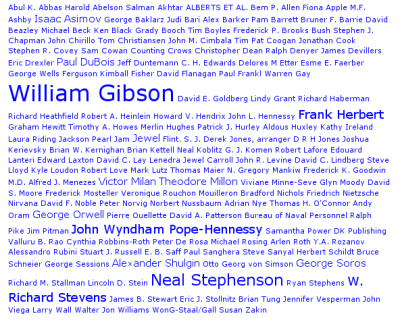 And here's my Tag Cloud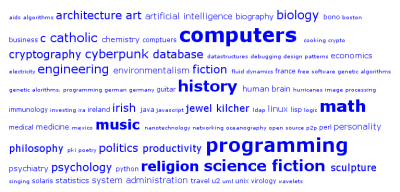 I have a huge number of books that no one else has. Disclosing stuff about myself always makes me feel like I'm weird because of stuff like that. Hakank has the most books in common with me, closely followed by dkennedy.



[Comments]