NASA STS-129 Shuttle Launch Tweetup: The Impact
My wife and I were 2 of 100 social media users chosen to participate in NASA's Space Shuttle Atlantis TweetUp on 11/15/2009. This 2-day gathering of Twitter users began with presentations by NASA technical, media, and astronaut staff, a tour of the Kennedy Space Center property, and a visit to the shuttle from just 1/4 mile distance. The 2nd day we were set up with a private press tent near the giant countdown clock and Vehicle Assembly Building, and watched the shuttle launch from only 3.5 miles away — the closest people are allowed to be when it lifts off.
You can re-live NASA TV's entire 5 hour coverage of the event, including interviews with the TweetUp attendees and the launch.
For the attendees, the return on their investment (ROI) was obvious. Participating in Twitter (a free service) and registering on a web site (also free) resulted in a once- in-a-lifetime experience of being part of a select group allowed to view a launch on site, plus receive lots of press attention. It's safe to say that most of the people were excited just for the opportunity to see the launch up close. Some came from as far away as Britain and New Zealand.
What about NASA's ROI?
From a social media perspective
While the event was run by NASA public relations and social media groups, much of it was set up physically using volunteers and staff personally excited to be a part of it. There were actual costs obviously; the conference room, people's time, the shuttle buses, gasoline, the tent, press kits, etc. This was actually their 5th tweetup, but the first one centered around a shuttle launch. As a social media event it was done very well. They setup a special hashtag (#NASATweetUp), every table on both days had free Wi-Fi and AC power, the front of the room had large displays showing the Twitter feeds, the event was simultaneously streamed to the Internet, and there was an expectation by presenters that people would be actively involved but would be looking at their laptops most of the time. Attendees were treated like press; and received press kits with mission details, CDs of data, and more. More than once NASA made it a point that they were open and would discuss anything at all — after all, it's your space program. Your tax dollars paid for it.
Almost all of the people that participated were selected on a first-come, first-served basis, having little to do with their social media standing, number of followers, or areas of interest. It was driven by the passions of the people wanting to attend. The only exceptions were FOX News, Laughing Squid, and Space Tweep Society, who received specific invitations, which again NASA was very open about.
NASA estimates the 100 people represented over 150k of personal followers. Conversation was so active that #NASATweetUp became the 3rd most popular trending topic on Twitter during the first day of presentations, ahead of the press conference discussions about water being discovered on the moon. By the end of the first week the event had generated over 10.4k "tweet" postings referencing the #NASATweetUP, plus a lot of blog, podcasts, and main stream media content. Speaking for myself, I picked up about 40 additional Twitter followers because of it.
Twitter Traffic Rockets into Space Along With Shuttle Atlantis
Here is where the ROI becomes a bit more obvious and interesting

First; there's little question whether this was reaching the target audience. While the group was a mixture of diverse people and interests, everyone that went to that web site to register and traveled at their own expense to be there was passionate enough to be the target audience. Also their friends and family would be included in this circle. They didn't have to be paid, so there little doubt to their motivation.  Everyone was as excited to be there as the people at NASA were on their first day of employment.
Social Media is about sharing the experience, in whole. While the mainstream press frequently focuses on the downside of the news and mostly attends launches in case there is a "tragedy", the social media press had nothing but excitement and positive things to report.  Every moment generated a Twitter/Facebook/FriendFeed/blog post. In fact the interaction with the TweetUp press was so much more involved and positive, that the monitors displaying the mainstream press conference were turned off after about 20 minutes of their depressing questions.
Unlike when the mainstream press posts a single story about a launch, and one about the landing, the social media continued to discuss the events every day for over 2 weeks. Furthermore, because the TweetUp itself was news, generating additional stories, and the people attending were interviewed by their own local press when they returned home, there was more mainstream coverage about this than would have otherwise occurred.
Some of the simplest things, like the massive eagles nest on property, or that an armadillo was spotted living at the Kennedy Space Center visitors complex, made social media news. The human experience, shared.
When the van carrying the astronauts stopped on route to the shuttle so the press area could to wave them off (a NASA tradition), because of the TweetUp it was the largest gathering of people there since Apollo 11 — NASA history in the making.
Perhaps one of the most unexpected ROI results was that in the wake of massive budget cuts and an ending shuttle program, a grassroots organization was created by some of the attendees to help save the NASA space programs. Their main point? With all the wasted government spending, and bailouts of deceptive financial institutions, why remove support from an organization that is actually working well?
There is also a documentary in progress concerning the event, again, being created by one of the attendees.
The TweetUp generated hundreds of additional photos and videos compared to the mainstream press. A large number of friendships also resulted, and I'm sure some NASA staff renewed their energy about working there.
NASA Pushes Social Media Experience to New Heights (press release), also published on RedOrbit
NASA Blogs: Tweet,two,one … Liftoff!
NASA considers the event a success and is planning on holding another one — pehapps larger this time. They are aware the general public views things they take for granted like seeing a rocket launch, talking with an Astronaut, or learning the complexities of putting it all together, as bottled-up treasure that should be shared.
Social Media Coverage
Many of the 100 TweetUp attendees posted blogs and podcasts of the event, relating in their own words their experience:
This is How NASA Will Win the Public Back
The Sociology of Tweeting and How It Affected a Space Launch: The Incalculable Benefits of Social Media on Geeks
STS-129 NASA Tweetup: Return on Investment
NASA Tweetup — Space Shuttle Atlantis Launch — Day 1 and Day 2
Attend a Shuttle Launch In Person — YES!
Birgit Pauli-Haack Photostream
NASA STS-129 TweetUp Photostream
There's also Space Tweep Society post listing many more sources
And there were some social media stories:
Houston, We Have a Tweet: NASA's Latest Social Media Launches
How to Launch an Effective Tweetup: Recent NASA Tweetup Offers Four Easy Lessons for PR
Mainstream Media Coverage
The presence of the TweetUp people was itself news, and caused the mainstream press to extend their coverage of this launch compared to others. CNN made a video and interviewed several of us:
And many media outlets ran stories containing interviews or tweets from our group:
Atlantis Blasts Off On Space Station Supply Mission
Tweeps come from around the world for NASA Tweetup at Kennedy Space Center
Amador County local 'twitters' from NASA space shuttle launch
WSJ: Space Shuttle Atlantis Lifts Off
From a Personal Perspective
I've already mentioned this event caused my Twitter followers to increase, as well as my making many new friends and renewing my interest in space science. I can't imagine not going to another one and doing an even better job of covering it for myself and others. One problem that became obvious to me was that I need to make a few changes to my blog and web site so I can more rapidly publish photo and video material. Things happened very fast.
My launch video was shown on CommandN as a video pick of the week, and my blog entry as a web pick. I also could not resist creating the following 2 photos: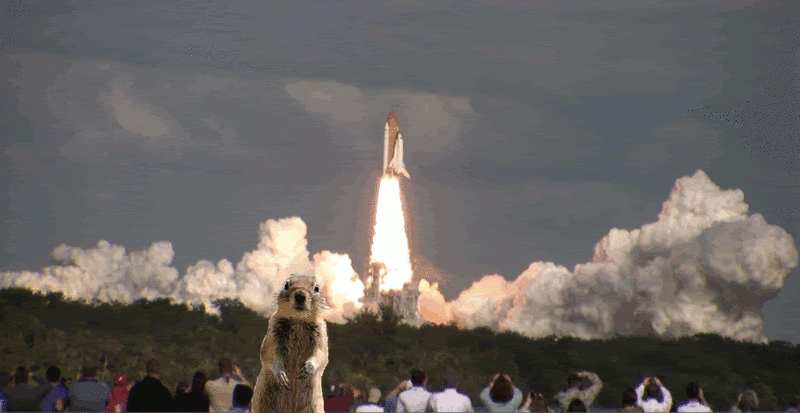 Summing It All Up
The NASA TweetUp is a good example of how and why companies should embrace social media, instead of fearing a lack of control over it. Such control is mainly an illusion, since any employee or visitor with a cell phone in their pocket or eventual access to the Internet can publish a message or photo to thousands instantly. It's better for companies to allow access and address employee issues as they would with any other individual concerns. In many ways, Social Media is exactly what marketing has been complaining they've wanted for years — to be able to target the people most trusted to spread the word about their product to friends and families. The problem is that people are honest and direct about products. Social media is not compatible with deceptive advertising or spin. You have to actually have a great product and earn trust. By participating in social media and hosting events, companies become an active member of the conversation. NASA took shuttle mission #129 and made it as special as #1, generating weeks of positive press and excitement.
NASA is already planning to host another TweetUp. I will try my best to be a part of it!
Syndicated 2009-12-07 13:30:04 from Keith Barrett Online » Technology