O'Reilly Offers 50% Off On Git Ebook And Videos Through Feb 8th
Being a huge fan of the git version control system, I was pleased to see that O'Reilly is offering 50% off on their git-related videos and ebook. I haven't seen the videos, but the "Version Control with Git" book is quite good. More info on O'Reilly's site: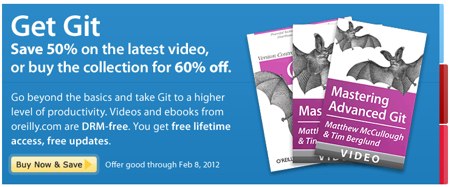 P.S. I have no financial motivation to post this info, i.e. I am not being compensated through any kind of referral links or anything else. I just think this is an interesting offer to folks interested in learning more about git.