curl 'techJobs' SanFran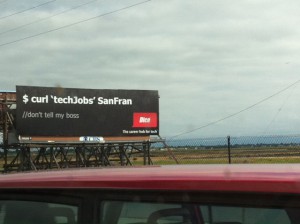 I got this awesome curl sighting from the US101, near SFO posted to me (click for a slightly larger version) a few days ago – showing curl on a very large billboard in an ad for Dice.
It is clearly meant to look like a unix style command line that invokes curl. The command line would only be syntactically correct if the user truly has two host names named "techJobs" and "SanFran" and curl would attempt to get their root HTTP document off them on port 80.
It gets followed by that C++/C99 comment that really is an odd added context.
To me, all the sign shows is a company that desperately tries to look techy but in trying too hard it fails really miserably. I'm really honored my work found its way to such a high profile spot though!
(photo by Stan van de Burgt)