Ouch, it seems I didn't wrote any blog entry for nearly 2 years, since our wedding. Well I would say that I have been fairly busy :-) !
Baby Cheng 程
Our son is born end of last august, so obviously this tends to keep the parents busy, but it's such a pleasure too !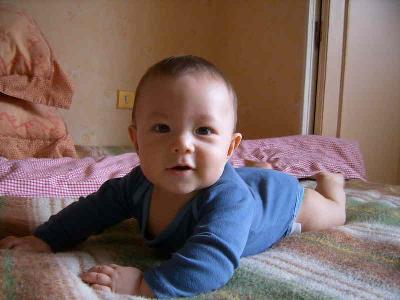 this has been a wild ride ! The project has grown a lot, in community and contributor size, as well as code and features during the last couple of years. It acquired support for most well known virtualization hypervisors (QEmu/KVM, Xen, ESX, VitualBox, ...) the only notable exception being Microsoft Hyper-V I think. Our latest release is 0.8.0 so we are not at 1.0 yet, but we are really getting closer, for example this release now adds snapshotting support which was a big feature request.
About updates to Fedora
There was a discussion last month about forbidding direct built to the stable branches, and I really think this makes sense, except for security erratas, one really should not push directly an updated build onto the users without some testing. But on the other hand we entered beta on Fedora 13 and apparently it's too late to push libvirt latest release and features, meaning users who don't try to update either via the virt-preview special repository or by rebuilding from the source rpm, will see libvirt features when Fedora 14 is being released i.e around the end of the year. I see people bouncing between both extreme of the features vs. stability tradeoff, and I wonder if there isn't a better way than building absolute rules. Maybe a general profile per machine where the user indicates whether he want updates, just bug fixes or just security errata, and let him do the picking. This would require some policy from package builders, and some changes at the repo level I guess, but having the user ultimately in control might be worth it.